Work smarter, let us setup and maintain that CMS, while you get all the credit.
Contact Us now
Useful Plugins For WordPress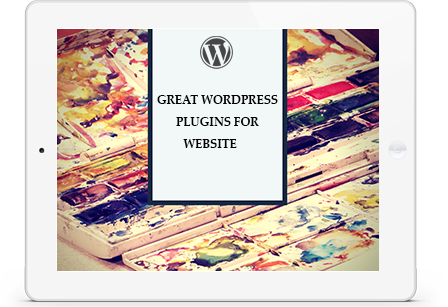 There are two sides to every website – the one which visitor sees, and the one behind the scenes, just for you – the admin. Design, content, optimization are the things that are very important for making your website user friendly, and easy to understand. Now let's see how we can make your work easier with useful WordPress plugins, some of them will also improve your site on the other side.
Yoast SEO Plugin
Without the basic implementation of SEO, it's really debatable how will you rank in organic search. That's why we've put Yoast on top of our useful WordPress plugins list. There are certain rules you have to follow if you want to add proper keywords to description, metadata, alt. caption of images, web copyright and articles.
Those rules apply to keyword density, number of images, sub heading tags, outbound links etc. You don't have to worry about any of this with Yoast. Simply throw some keywords around then click the option "check SEO". If you haven't done it right Yoast will list all the things you have to do better in red light. After you're done with all those details click again and if it turns to gree, you've done it right. And you got yourself an optimized section.
Jetpack
This plugin carries quite a pack. Quite useful with all the tools and information it can offer. Most valuable features are the social media publicize, dropping share buttons, mobile responsive themes for smartphones and tablets, etc. Mobile theme is activated by a simple click on the enable button in this module on a Jetpack's dashboard. Site stats are most commonly used. It can give you traffic information on a daily and monthly visits to your site, also from which sources you got them. Jetpack can also easily generate a comment section, and the contact form, and paste it directly to the website. There are lots more neat features that you might need for your website. Jetpack is and always will be free.
Leadin
Hubspot made this extremely useful WordPress plugin, which will help you with the personal and business information about the visitors of your website, before and after they become a lead. Let's say that a visitor leaves you his email address, or subscribes to your newsletter and other content that you're offering. Once someone subscribe, Leadin will show you what exactly that person checked out on your website, which page did he browse the most. Another useful details are the visiting habits of your lead online. It might give you an idea of what he is looking for, and once you know that, it's much easier to pick out what kind of content you want him to receive from you to his email. Get to know your website's visitors – that's Leadin in a nutshell.
Google Maps Builder
If you want to paste a google map to your website in any shape and size, this is your plugin. This one has no bugs, which is important and it's really easy to configure. The number of maps is not limited; you can create as much as you like and put them anywhere on your website.
Admin Columns
Managing content on WordPress site is part of daily routines. Just thinking about shuffling through hundreds of posts every day in posts edit screen is very tiring and the actual work on editing and making changes is very time consuming. Other admin screens ain't no better either. Well guess what, there is a useful WordPress plugin for that aswell. Admin columns allows you to customize, add and remove any screen in the admin panel. It's very simple to use, so you don't have to know any coder tricks before you do. When your site grows, you'll start to appreciate what this plugin does for you. More and more content will be manageable in less time, if you use admin columns instead of WordPress stock dashboard.
Simple PayPal Shopping Cart
This plugin will let you add a "add to cart" button on your website. If you're running an ecommerce type of site, this comes in handy for selling products online. The interface is standard – it allows the shopper to see the quantity of items that he chose, add and remove products from the cart.
Conclusion
Thi selection of useful WordPress plugins should make your work much easier and enjoyable. By using these plugins in running your website, you'll gain:
Optimized content (Web, blogs, images)
More info on the visitors of your site
Website extras without any hustle
If you have any questions for us, regarding these or other plugins for your website, don't be shy. Contact us and we'll respond shortly.