Work smarter, let us setup and maintain that CMS, while you get all the credit.
Contact Us now
(API) Solutions and Flawless Communication in HL7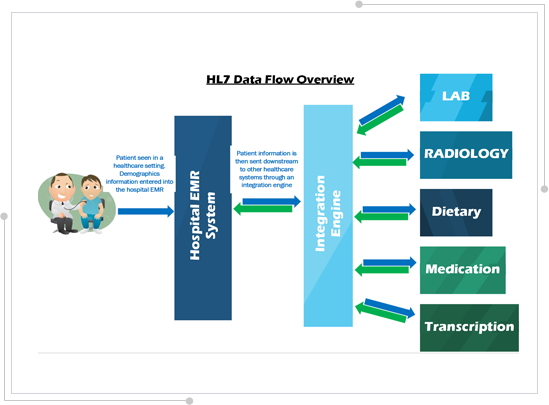 Over time, the HL7 framework has become the most common EMR interface and messaging protocol between companies in the medical field. This framework allows the integration, exchange, sharing and retrieval of the patient files within EMR(Electronic Medical Record) system. These EMR's connect different healthcare institutions, doctors clinics, hospitals, labs and insurance companies together so they can securely access patient records, charts and payments. This HL7 framework and the standards around it were developed by Insurance Health Level 7 International and accredited by ANSI.
HL7 has several primary standards:
Version 2.x Messaging Standard – an interoperability specification for health and medical transactions
Version 3 Messaging Standard – an interoperability specification for health and medical transactions
Clinical Document Architecture (CDA) – an exchange model for clinical documents, based on HL7 Version 3
Continuity of Care Document (CCD) – a US specification for the exchange of medical summaries, based on CDA.
Structured Product Labeling (SPL) – the published information that accompanies a medicine
Clinical Context Object Workgroup (CCOW) – an interoperability specification for the visual integration of user applications
Our experience allows us to develop,design, test and deploy solutions using these standards.
The most popular integrations we provide are:
Automated posting of insurance payments (Insurance management)
Lab integrations to EMR (Labcorp, Sonora Quest, Advanced Lab, Bio Lab)
Complete data automated (Incoming and outgoing)
Going one step deeper with integration, here are time saving commands that staff benefit from:
ACK – Acknowledgement
ADT – Admit Discharge Transfer
RAS – Pharmacy/Treatment Administration
SIU – Scheduling Information Unsolicited
MFN – Master File Notification
ORM – Order
ORU – Observation Result
QRY – Query
DFT – Detailed Financial Transaction
To implement a solution for you, we first understand the overall so that we can form an integration strategy. Afterwards, we create EMR software or improve the existing infrastructure and procedures. Once we are done, this will have freed up your staffs time by automating the electronic communication with insurance companies, pharmacies and laboratories. This will give your team more time to care for patients and less time worrying about the non-productive backend tasks.
eTechLogix can setup and operate an open source "Mirth System" which will save you thousands per month over high priced commercial licenses. So instead of being obligated to purchase a commercial license and paying heavy fees just to access your customer data, the data gets stored directly to in your own EMR database which we maintain.
Let us build you a stable, cost efficient, scalable healthcare product which gives you a flawless communication between your firm and all the companies you work with.